SENNELIER TRAVEL BOXES 36 HALF-PANS #N331682
This exceptional and very high quality watercolor will help you make your works even more powerful due to the liveliness and purity of the hues. The colours mix together perfectly, offering superbly subtle shades. These smooth, intense colours will be a genuine pleasure to paint with. The addition of honey will allow the tubes and pans of Sennelier watercolors to stand up to the passing of time and each time you will paint with them you will be able to accurately translate the diversity of light shape and hues.
Add to Wishlist

Compare
Related Products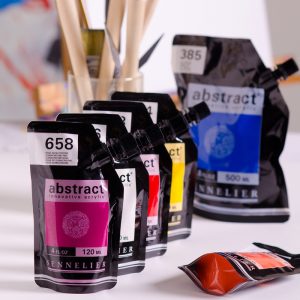 Abstract is composed of 34 single pigment colours among the range's 60 shades. • 36 SATIN FINISH COLOURS • 12 HIGH GLOSS COLOURS • 6 IRIDESCENT COLOURS • 6 FLUORESCENT COLOURSABOUT THE PAINT:
Abstract is the result of three years of research and by the Sennelier expert lab team. It is a fine acrylic paint which meets all the stringent quality demands that are a guarantee of Sennelier paints: its pigment concentration –quite amazing for this segment of the market – gives it a creamy-to-thick consistency which we've called "Heavy Body", along with incomparable covering power. The paste is a pleasure to handle with a brush, a palette knife or straight out of the soft pack . Its ease of application onto multiple surfaces makes it very popular with students, professional painters , street artists, and many more creative people.