Westcott 9″ ExtremEdge Titanium Bonded Scissors #14669
High-performance titanium scissors provide 3x the strength of stainless steel.

Easily cuts multiple layers of even the toughest material.

Improved ergonomic nylon handles.

Screw allows to adjust blade tension for increased cutting performance.
Add to Wishlist

Compare
Related Products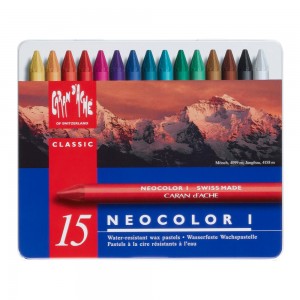 Over 60 years' expertise for an iconic product : the NEOCOLOR® I wax oil pastel is suitable for artists of all ages.
Contents : 15 permanent wax oil pastels
Applications : Various potential applications – to decorate numerous media, painting and blending, wax coating, scraping, mixed media, superimposed colours, stencilling, sgraffito.
Technical description :
Type : Superior quality permanent wax oil pastel
Details : Water-resistant, creamy, economical to use thanks to superior covering power, 100% usable, excellent light resistance.
CE EN71 and ASTM D4236 compliant
Techniques : can be applied to all materials (paper, cardboard, glass, wood, leather, fabric, stone, etc.) and dissolved using turpentine, becomes a wax coating on hot metal, user in combination with NEOCOLOR® II Watersoluble.
Developed and manufactured in Switzerland.