Westcott 8″ Titanium Bonded Non-Stick Scissors, Bent #14850
Westcott® Titanium Bonded Non-Stick 8″ Bent Scissors. The very latest technology from Westcott combines Titanium with a unique Non-Stick coating that is permanently bonded to the blades. The result – blades stay sharper longer and resist adhesives from tapes and glues. The perfect combination!
5X harder than stainless steel

Superior adhesive resistance

Perfect for cutting tape, Velcro® fasteners and other adhesives

Ideal for the mailroom, art room & scrap booking

Lifetime Manufacturers Warranty
Add to Wishlist

Compare
Related Products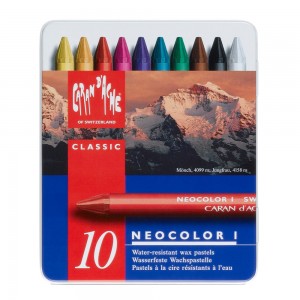 Over 60 years' expertise for an iconic product : the NEOCOLOR® I wax oil pastel is suitable for artists of all ages.
Contents : 10 permanent wax oil pastels
Applications : Various potential applications – to decorate numerous media, painting and blending, wax coating, scraping, mixed media, superimposed colours, stencilling, sgraffito.
Technical description :
Type : Superior quality permanent wax oil pastel
Details : Water-resistant, creamy, economical to use thanks to superior covering power, 100% usable, excellent light resistance.
CE EN71 and ASTM D4236 compliant
Techniques : can be applied to all materials (paper, cardboard, glass, wood, leather, fabric, stone, etc.) and dissolved using turpentine, becomes a wax coating on hot metal, user in combination with NEOCOLOR® II Watersoluble.
Developed and manufactured in Switzerland.