Westcott 8″ Titanium Non-Stick Scissors #16913
Westcott 8″ Titanium Non-Stick Scissors #16913
Westcott Titanium Bonded Non-Stick 8 inch straight scissors combine Titanium with a unique Non-Stick coating that is permanently bonded to the blades so that blades stay sharper longer and resist adhesives from tapes and glues.
Perfect for cutting tape, Velcro fasteners, and other adhesives

Ideal for the mail room, art classroom, and scrapbooking projects

Titanium Bonded Blades are 6X longer lasting than the previous formula, so blades stay sharper, longer

Non-Stick coating makes blades corrosion and adhesive-resistant

Lifetime Manufacturers Warranty
Add to Wishlist

Compare
SKU:

16913
Categories: Best Seller, Cutting tools, Popular Products, Scissors, Titanium Bonded Non Stick, Westcott
Tags: Scissors, กรรไกร, กรรไกรwestcott, กรรไกรตัดเทปกาว, กรรไกรเคลือบไทเทเนี่ยม, กรรไกรเวสต์คอทท์, อุปกรณ์สำนักงาน, อุปกรณ์เขียนแบบ, เครื่องเขียน
Related Products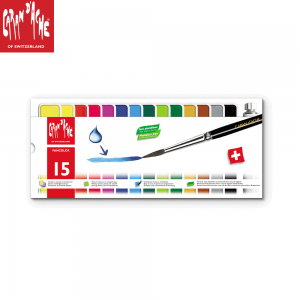 Metal box with 15 colour tablets/1000.715
High colour density, and unbeatable creamy texture, ensuring immediate ease of use. Plasticizer-free formula. Does not crack.
Contents : 14 colour tablets, 1 tube of white, 1 paintbrush
Applications : Recommended for budding artists, unlimited colour mixes.
Technical description :
Type : Water-based paint with a natural binder and no plasticizer, water-soluble
High pigment concentration, luminous colours, good light resistance, economical to use.
Practical, ecological metal box
Complies with CE EN71
Warning. Not suitable for children under 3 years
Techniques : opaque and transparent painting on paper or cardboard, easy to mix, water-soluble.
Developed and manufactured in Switzerland.