WESTCOTT – 16492 5″ SNIFFS SCISSORS (STRAWBERRY)
กรรไกร Westcott ขนาด 5 นิ้ว รุ่น Shiffs มีกลิ่นหอมของผลไม้หลายชนิด ตรงด้ามจับ ปลายโค้งมน
มีระบบ Safety blade (ความคม 5 องศา) จะทำให้ไม่บาดนิ้วผู้ใช้ เหมาะสำหรับเด็กอายุตั้งแต่ 3 ปีขึ้นไป
Add to Wishlist

Compare
Related Products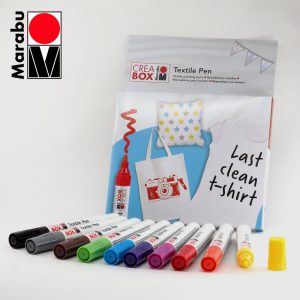 Pen for painting  fabric.
Inside have 10 color size 3 mm.
The water-based textile pen paint in the convenient pump-action spray bottle is suitable for light-coloured textiles with up to 20 % man-made fibres. After fixing (iron: 30 x 30 cm, 3 min. at cotton setting/oven: pre-heated, 150 °C/8 min.) will be washable up to 40°C (wash and iron from reverse).
Whether free-hand pianting with colour transitions, stencilling, masking or tying off – the odour-free and light-fast paints allow endless techniques.
Marabu  textile pen in combination with Fashion Liner and Silhouette Stencils make fashion dreams come true.