TextilFarbe 5×25 ml. 1719k00575
Intensive, matt colours & elegantly shimmering effects 5×25 ml.
Inside have 4 Shimmer color , 1 Matt color
soft to the touch
for textiles with up to 20% synthetic fibres
washable up to 40°C after fixing
ideal for embellishments & lettering
Can be used on both fabric white fabric.
Add to Wishlist

Compare
The creamy, soft textile paint in the liner will turn any garment into a unique piece. The odourless, light-fast, water-based paint is suitable for special highlights, embellishments and writing.
All textiles (free from finishes and fabric conditioner) with max. 20% man-made fibres can be embellished and after fixing (iron: 30 x 30 cm, 3 min. at cotton setting/oven: pre-heated, 150 °C/8 min.) will be washable up to 40°C (wash and iron from reverse).
Fashion dreams come true in combination with Marabu Fashion Spray and Marabu Silhouette Stencils.
Related Products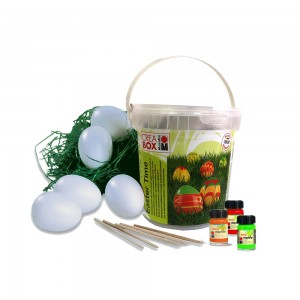 Easy Marble -Easter Time 3x15ml. (8 Plastic eggs)
Marabu Easy Marble – Solvent-based
Doesn't require the use of other chemicals
Cleans up with isopropyl alcohol or solvents, depending on dryness
Easy Marble paints are lightfast and quick-drying
additionaly things you need:
plastic eggs
water container
wooden skewers
gloves
old newspaper, paper
Tips
Always work quickly as easy marble will form a paint film within a very short time, making it impossible to create a marble effect pattern.