TextilFarbe 5×25 ml. 1719k00575
Intensive, matt colours & elegantly shimmering effects 5×25 ml.
Inside have 4 Shimmer color , 1 Matt color
soft to the touch
for textiles with up to 20% synthetic fibres
washable up to 40°C after fixing
ideal for embellishments & lettering
Can be used on both fabric white fabric.
Add to Wishlist

Compare
The creamy, soft textile paint in the liner will turn any garment into a unique piece. The odourless, light-fast, water-based paint is suitable for special highlights, embellishments and writing.
All textiles (free from finishes and fabric conditioner) with max. 20% man-made fibres can be embellished and after fixing (iron: 30 x 30 cm, 3 min. at cotton setting/oven: pre-heated, 150 °C/8 min.) will be washable up to 40°C (wash and iron from reverse).
Fashion dreams come true in combination with Marabu Fashion Spray and Marabu Silhouette Stencils.
Related Products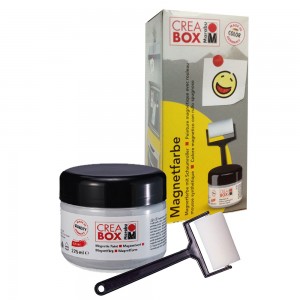 Magnetic paint – Magnetic wall from the can, color: gray, magnets adhere directly to the painted surface, 225 ml for approx. 1 m², with manual.
Magnetic paint – How it is done:
1. The substrate must be as smooth as possible, dry, grease and dust free. Stir the paint well before use, to redistribute the magnetic particles in the paint.
2. Apply the desired object with magnetic paint 2 – 3 times (drying time between the individual layers approx. 2 hours).
3. Apply the product with acrylic paint.
4. Glue the magnets to the spreading parts and attach them to the object.