Textile Fashion Spray 3×50 ml.1719k00588
Textile Fashion The water-based  3x 50 ml.

3 colour inside pink, green, blue and purple 

Shimmer Textile 1×25 ml.

2 Stencils (Star / Bird)
Add to Wishlist

Compare
Fantastic colour fun on textiles. Anyone can bring their favourite style to T-shirts, bags, cushions and curtains. Create your own textile designs, super fast and easy. The versatile, brilliant colour range offers the right
option for any taste, any season and any occasion.
The water-based textile spray paint in the convenient pump-action spray bottle is suitable for light-coloured textiles with up to 20 % man-made fibres. After fixing (iron: 30 x 30 cm, 3 min. at cotton setting/oven: pre-heated, 150 °C/8 min.) will be washable up to 40°C (wash and iron from reverse).
Whether free-hand spraying with colour transitions, stencilling, masking or tying off – the odour-free and light-fast paints allow endless techniques.
Marabu Fashion Spray in combination with Fashion Liner and Silhouette Stencils make fashion dreams come true.
Related Products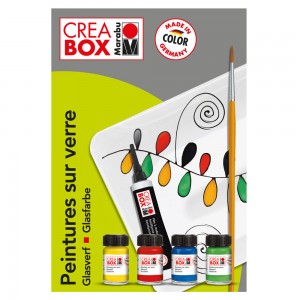 Glasset 4x15ml. :
4  color Red, yellow, blue, green
1 Relief Paste. 073, 20 ml. and 1 brush.
Brilliant colour interplay on glass
Whether on a large area or as a small colour highlight – the Marabu glass paints make glass surfaces shine. Use the high-gloss, transparent paint for your creations on glasses, glass plates, vases and windows as well as on mirrors, ceramic, porcelain and acrylic plastic.
Excellent flow properties for even application. The colours are easy to mix and result in a wide range of colours.
Depending on the thickness of the paint coat, you can achieve delicate or rich shades. The colours dry to a transparent, glossy finish. Black and white are opaque.
The combination of bright colours and elegant transparency creates a fascinating interplay of colours and light.