สีเพ้นท์ผ้า Marabu สูตรน้ำ Textil Plus (สำหรับผ้าทึบ) ขนาด 50 ml.

สีเพ้นท์ผ้าสูตรน้ำสำหรับผ้าทึบ (Textil Plus) ให้ผิวสัมผัสที่อ่อนนุ่มกับเนื้อผ้า
ควรใช้ผ้าที่ทำจากเส้นใยธรรมชาติมากกว่า 60% ขึ้นไป จะช่วยให้สีสดขึ้น
เมื่อแห้งแล้วควรกลับด้านใช้เตารีด รีดทับวน ประมาณ 2-3 นาที
หรือเตาอบ ที่อุณหภูมิ 150 องศา เวลา 8 นาที เพื่อให้สียึดเกาะแน่นขึ้น
สามารถซักด้วยน้ำอุ่น 40 องศาได้ มีให้เลือก 11 เฉดสี
Add to Wishlist

Compare
| | |
| --- | --- |
| Color | 020 Lemon, 021 Medium Yellow, 023 Red Orange, 030 Light Vermilion, 032 Carmine Red, 051 Dark Violet, 090 Light Blue, 055 Dark Ultramarine, 015 French Green, 046 Medium Brown, 073 Black |
Related Products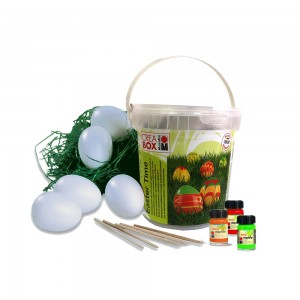 Easy Marble -Easter Time 3x15ml. (8 Plastic eggs)
Marabu Easy Marble – Solvent-based
Doesn't require the use of other chemicals
Cleans up with isopropyl alcohol or solvents, depending on dryness
Easy Marble paints are lightfast and quick-drying
additionaly things you need:
plastic eggs
water container
wooden skewers
gloves
old newspaper, paper
Tips
Always work quickly as easy marble will form a paint film within a very short time, making it impossible to create a marble effect pattern.