POURING MEDIUM 946 ML. 694576
POURING MEDIUM
Creates even "puddles," poured sheets, and flowing applications of color.
Does not craze, crack, or hold bubbles in the paint film upon drying.
Retains high gloss and wet appearance when dry.
Will not add transparency when mixed with color.
Flexible, non-yellowing and water resistant when dry.
Add to Wishlist

Compare
Related Products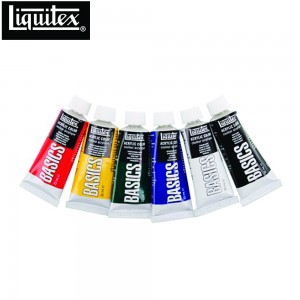 Liquitex BASICS® Acrylic Paint is developed for students and artists that need quality at outstanding value. Each color is uniquely formulated to bring out the maximum brilliance and clarity of the individual pigment.
48 Color Spectrum
A heavy body acrylic paint that retains peaks and brush strokes
Contains permanent artist pigments
All colors dry to a satin finish
Intermixable with all Liquitex Professional Acrylic Colors and Mediums
Ideal for learning color theory and color mixing
All colors hold the AP Seal from ACMI and are safe for educational use