Caran d'Ache Swisscolour Water-Soluble Colour Pencils -40 colour 1285.740
With the smart, soft lead these water-soluble colouring pencils prove difficult to break and easy to use whilst retaining the precision and colour quality embodied by Caran d'Ache. The Swisscolour range is perfectly colour matched with the Pablo, water-resistant range so the two pencil types can be used in conjunction with one another, the water-resistant pencils well suited for details.
Soft, water-soluble lead (3.8 mm)
Break resistant
Cedar wood casing (FSC certified)
Excellent light resistance
100% Swiss Made quality
Available in sets of 12, 18, 30.
About Caran d'Ache
Founded, developed and still manufactured in Geneva since 1924, Caran d'Ache remains Switzerland's only manufacturer of writing instruments, having asserted themselves as one of the most dynamic and competent stationery manufacturers in the world with guaranteed 100% Swiss made quality.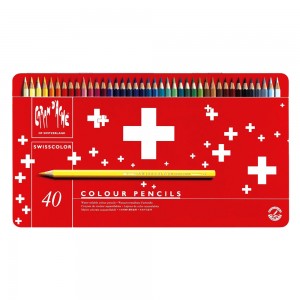 Add to Wishlist

Compare
Related Products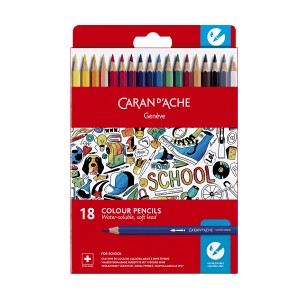 Caran d'Ache School Line Water-soluble Color Pencils, 18 Colours (cardboard box)
Designed with schoolchildren and students in mind, this brand new School Line is faithful to the values of Caran d'Ache. Along with the lasting quality which has earned the brand its international reputation, it has now added original packaging, emphasising creativity more than ever. Ultra-reliable and resistant to ensure they last well beyond the schools desks.
Not recommended for children under 3 years of age

Product Dimensions: 7.75" L x 5.25" W x 0.5" H
Made in Switzerland