Caran d'Ache Swisscolour Water-Soluble Colour Pencils -30 colour 1285.730
With the smart, soft lead these water-soluble colouring pencils prove difficult to break and easy to use whilst retaining the precision and colour quality embodied by Caran d'Ache. The Swisscolour range is perfectly colour matched with the Pablo, water-resistant range so the two pencil types can be used in conjunction with one another, the water-resistant pencils well suited for details.
Soft, water-soluble lead (3.8 mm)
Break resistant
Cedar wood casing (FSC certified)
Excellent light resistance
100% Swiss Made quality
About Caran d'Ache
Founded, developed and still manufactured in Geneva since 1924, Caran d'Ache remains Switzerland's only manufacturer of writing instruments, having asserted themselves as one of the most dynamic and competent stationery manufacturers in the world with guaranteed 100% Swiss made quality.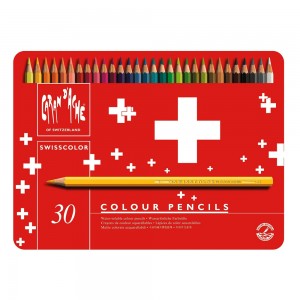 Add to Wishlist

Compare
Related Products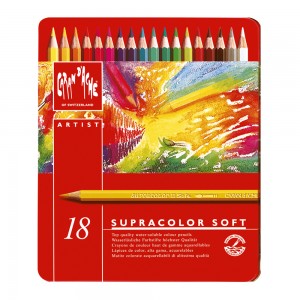 Pencils to satisfy both amateur and professional artists, illustrators, graphic designers and teachers thanks to the soft pigment range in both dry and water-soluble pencils.
Contents : 18 water-soluble coloured pencils
Applications : soft and unbreakable lead for clean, accurate lines. Good for techniques such as hatching, wash drawing, dry drawing or watercolour, superimposing different colours.
Technical description :
Type : Water-soluble coloured pencils, hexagonal shape for optimal grip
Lead : water-soluble, soft and resistant, 3.8 mm diameter, superior coverage, excellent light resistance
Pencil : hexagonal, encapsulated, colour no. and name indicated, light-resistance graded
Premium FSC certified cedar wood
Techniques : hatching, shading, watercolour, wash drawings, unlimited blending, superimposed colour, mixed techniques combined with PABLO® permanent pencils, NEOCOLOR® pastels and gouache. Ideal for large-scale drawings with large areas of colour.
Available in assortments of 12, 18, 30, 40, 80 and 120 colours.
Also available in 120 and 80 colour wooden box sets, multi-product wooden box sets, 30 SUPRACOLOR® Soft Aquarelle + 30 PABLO® and 80 SUPRACOLOR® Soft Aquarelle + 80 PABLO® or as a " Lanvin  limited edition.
Developed and manufactured in Switzerland.