Red box Water soluble pencil – 12 Colours #288.412
Caran D'ache Red box Colour Pencils are an affordable but excellent quality, water soluble pencil that is ideal for beginners and students aswell as accomplished artists.
Can be used with water to achieve water colour effects and techniques, but are jsut as comfortable to use as ordinary colouring pencils.
Swisscolor colour pencils are designed and manufactured in the Geneva workshops of Caran d'Ache, in line with eco-friendly standards and certifications and according to the Swiss Made quality label.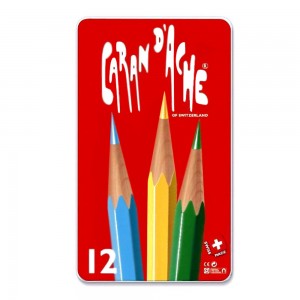 Add to Wishlist

Compare
Related Products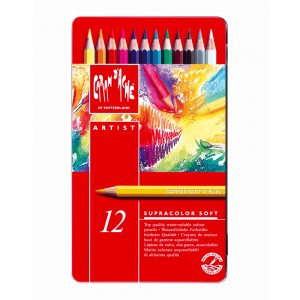 Pencils to satisfy both amateur and professional artists, illustrators, graphic designers and teachers thanks to the soft pigment range in both dry and water-soluble pencils.
Contents : 12 water-soluble coloured pencils
Applications : soft and unbreakable lead for clean, accurate lines. Good for techniques such as hatching, wash drawing, dry drawing or watercolour, superimposing different colours.
Technical description :
Type : Water-soluble coloured pencils, hexagonal shape for optimal grip
Lead : water-soluble, soft and resistant, 3.8 mm diameter, superior coverage, excellent light resistance
Pencil : hexagonal, encapsulated, colour no. and name indicated, light-resistance graded
Premium FSC certified cedar wood
Techniques : hatching, shading, watercolour, wash drawings, unlimited blending, superimposed colour, mixed techniques combined with PABLO® permanent pencils, NEOCOLOR® pastels and gouache. Ideal for large-scale drawings with large areas of colour.
Developed and manufactured in Switzerland.