FANCOLOR – 15 COLOURED GOUACHE TABLETS 1000.715
Metal box with 15 colour tablets/1000.715
High colour density, and unbeatable creamy texture, ensuring immediate ease of use. Plasticizer-free formula. Does not crack.
Contents : 14 colour tablets, 1 tube of white, 1 paintbrush
Applications : Recommended for budding artists, unlimited colour mixes.
Technical description :
Type : Water-based paint with a natural binder and no plasticizer, water-soluble
High pigment concentration, luminous colours, good light resistance, economical to use.
Practical, ecological metal box
Complies with CE EN71
Warning. Not suitable for children under 3 years
Techniques : opaque and transparent painting on paper or cardboard, easy to mix, water-soluble.
Developed and manufactured in Switzerland.
Add to Wishlist

Compare
Related Products
PRO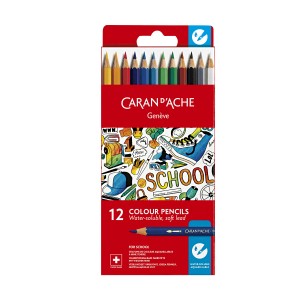 Caran d'Ache School Line Water-soluble Color Pencils, 12 Colours (cardboard box)
Designed with schoolchildren and students in mind, this brand new School Line is faithful to the values of Caran d'Ache. Along with the lasting quality which has earned the brand its international reputation, it has now added original packaging, emphasising creativity more than ever. Ultra-reliable and resistant to ensure they last well beyond the schools desks.
Not recommended for children under 3 years of age

Product Dimensions: 7.75" L x 5.25" W x 0.5" H
Made in Switzerland