FANCOLOR – 15 COLOURED GOUACHE TABLETS 1000.715
Metal box with 15 colour tablets/1000.715
High colour density, and unbeatable creamy texture, ensuring immediate ease of use. Plasticizer-free formula. Does not crack.
Contents : 14 colour tablets, 1 tube of white, 1 paintbrush
Applications : Recommended for budding artists, unlimited colour mixes.
Technical description :
Type : Water-based paint with a natural binder and no plasticizer, water-soluble
High pigment concentration, luminous colours, good light resistance, economical to use.
Practical, ecological metal box
Complies with CE EN71
Warning. Not suitable for children under 3 years
Techniques : opaque and transparent painting on paper or cardboard, easy to mix, water-soluble.
Developed and manufactured in Switzerland.
Add to Wishlist

Compare
Related Products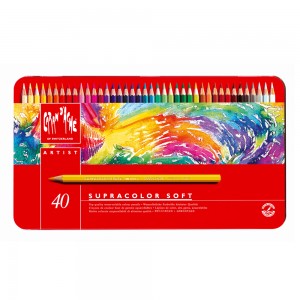 Pencils to satisfy both amateur and professional artists, illustrators, graphic designers and teachers thanks to the soft pigment range in both dry and water-soluble pencils.
Contents : 40 water-soluble coloured pencils
Applications : soft and unbreakable lead for clean, accurate lines. Good for techniques such as hatching, wash drawing, dry drawing or watercolour, superimposing different colours.
Technical description :
Type : Water-soluble coloured pencils, hexagonal shape for optimal grip
Lead : water-soluble, soft and resistant, 3.8 mm diameter, superior coverage, excellent light resistance
Pencil : hexagonal, encapsulated, colour no. and name indicated, light-resistance graded
Premium FSC certified cedar wood
Techniques : hatching, shading, watercolour, wash drawings, unlimited blending, superimposed colour, mixed techniques combined with PABLO® permanent pencils, NEOCOLOR® pastels and gouache. Ideal for large-scale drawings with large areas of colour.
Developed and manufactured in Switzerland.