BALLPOINT PEN 888 INFINITE® BATMAN – JUSTICE LEAGUE LIMITED EDITION 888.700B PRODUCTS WITH LUXURY BOX.
Ballpoint pen 888 INFINITE® BATMAN – JUSTICE LEAGUE LIMITED EDITION
A special edition available in 6 models: the 6 superheroes of the JUSTICE LEAGUE
Colour of the pen body: main colour associated with the superhero

Pad printing on the body: outline of the superhero in a darkened tone-on-tone design

Clip: superhero's logo for immediate recognition

Body and clip made from matt synthetic resin

Metal tip and button

Rechargeable ballpoint pen with SwissRide® cartridge
Caran d'Ache presents the Justice League 888 INFINITE® special edition, shaped in the image of superheroes with extraordinary powers! The world of each of these legendary crime-fighters is reflected in this out-of-the-ordinary special edition… Colours, writing comfort, 100% swissmade technology – everything you need to become part of the legend!
Produced entirely in the company's Geneva workshops, the 888 INFINITE® bears witness to traditional know-how and an original design. Fitted with the SWISSRIDE® cartridge, also produced in the Caran d'Ache workshops, it boasts incomparable comfort and smoothness across the paper. Quick, smooth and seamless writing to accompany you in your most spontaneous creations.
Add to Wishlist

Compare
Related Products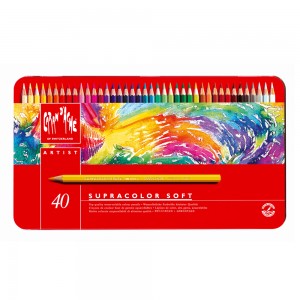 Pencils to satisfy both amateur and professional artists, illustrators, graphic designers and teachers thanks to the soft pigment range in both dry and water-soluble pencils.
Contents : 40 water-soluble coloured pencils
Applications : soft and unbreakable lead for clean, accurate lines. Good for techniques such as hatching, wash drawing, dry drawing or watercolour, superimposing different colours.
Technical description :
Type : Water-soluble coloured pencils, hexagonal shape for optimal grip
Lead : water-soluble, soft and resistant, 3.8 mm diameter, superior coverage, excellent light resistance
Pencil : hexagonal, encapsulated, colour no. and name indicated, light-resistance graded
Premium FSC certified cedar wood
Techniques : hatching, shading, watercolour, wash drawings, unlimited blending, superimposed colour, mixed techniques combined with PABLO® permanent pencils, NEOCOLOR® pastels and gouache. Ideal for large-scale drawings with large areas of colour.
Developed and manufactured in Switzerland.