THE CARAN D'ACHE WORKSHOP BOOK ENGLISH VERSION + 30 SUPARCOLOR SOFT # 3000.302
The workshop book english version + 30 Supracolor Soft / 3000.302
–       30 Supracolor Soft
–       192 pages
–       40 basic Caran d'Ache techniques presented
–       100 other colour experiments illustrated
–       Gallery of works by 90 artists from 20 countries who regularly use Caran d'Ache
–       Glossary of 160 artistic terms explained
–       Manufacturing of a pencil illustrated in 18 steps
–       The history of Caran d'Ache since 1915 summarised in 34 sequences
In its 192 pages, the Workshop book offers readers the chance to plunge into the heart of the colours constituting the DNA of Caran d'Ache. By presenting technical tips, essential information, artistic explanations and creative "recipes", this unique book allows you to discover, or rediscover, all the magic of Swiss Made Caran d'Ache products: pencils, pastels and paints. Both a technical work and an art book, which is a perfect gift, the Workshop book is an inspiring testimony to style and creative experience proper to the Caran d'Ache brand.
Add to Wishlist

Compare
Related Products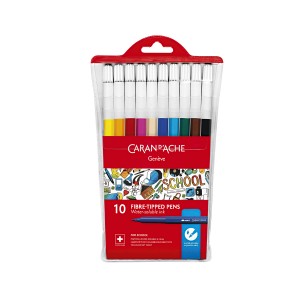 SCHOOL LINE WATERSOLUBLE FIBRE-TIPPED PENS – 10 PIECES
Designed with schoolchildren and students in mind, this brand new School Line is faithful to the values of Caran d'Ache. Along with the lasting quality which has earned the brand its international reputation, it has now added original packaging, emphasising creativity more than ever. Ultra-reliable and resistant to ensure they last well beyond the schools desks. Assortment of 10 fibre-tipped pens in a plastic case.
Fibre-tipped pens with water-soluble and washable ink
Inks using food-based colours
Tip highly resistant to pressure which remains flexible without fraying
Great length of writing up to 16 sheets of A4
Bright and transparent colours
CE EN71
Made in Switzerland
Not suitable for children under 3 years