COLOURING BOOK FOR ADULTS SPIRIT OF THE ALPS # 454.200
Colouring book for adults/454.200
Who has never secretly wanted to grasp the spirit of the Alps? Dreamed of fully appreciating the beauty, the secrets and the delicate poetry? This colouring book of 25 illustrations will bring you in alpine landscapes: revisited mandalas, landscapes and pictures of Alpine fauna and flora, motifs inspired by traditional paper-cutting art. The superior quality drawing paper (240 g/m2) is ideal for PRISMALO®, LUMINANCE 6901®, NEOCOLOR®, FIBRALO, GOUACHES and other products from Caran d'Ache.
Technical description:
Dimensions : 23,7 x 16 x 29,7 cm
28 pages : 25 illustrations, 2 double-sided pages of artistic techniques, 1 blank page for the creation of its own design
Single-sided printed in order to hang the works up
240 g/m2 drawing paper, FSC paper
1 original poster with the 5 themes is included (28 x55.4 cm)
Individual protection
ISBN/EAN number: 9782970102700
L'ESPRIT DES ALPES is available as colouring book for adults, pad of 12 colouring postcards and gift box set "Art Therapy".
Developed and manufactured in Switzerland.
Add to Wishlist

Compare
Related Products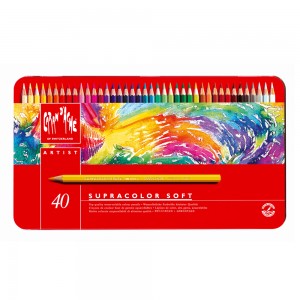 Pencils to satisfy both amateur and professional artists, illustrators, graphic designers and teachers thanks to the soft pigment range in both dry and water-soluble pencils.
Contents : 40 water-soluble coloured pencils
Applications : soft and unbreakable lead for clean, accurate lines. Good for techniques such as hatching, wash drawing, dry drawing or watercolour, superimposing different colours.
Technical description :
Type : Water-soluble coloured pencils, hexagonal shape for optimal grip
Lead : water-soluble, soft and resistant, 3.8 mm diameter, superior coverage, excellent light resistance
Pencil : hexagonal, encapsulated, colour no. and name indicated, light-resistance graded
Premium FSC certified cedar wood
Techniques : hatching, shading, watercolour, wash drawings, unlimited blending, superimposed colour, mixed techniques combined with PABLO® permanent pencils, NEOCOLOR® pastels and gouache. Ideal for large-scale drawings with large areas of colour.
Developed and manufactured in Switzerland.