COLOURING BOOK FOR ADULTS SPIRIT OF THE ALPS # 454.200
Colouring book for adults/454.200
Who has never secretly wanted to grasp the spirit of the Alps? Dreamed of fully appreciating the beauty, the secrets and the delicate poetry? This colouring book of 25 illustrations will bring you in alpine landscapes: revisited mandalas, landscapes and pictures of Alpine fauna and flora, motifs inspired by traditional paper-cutting art. The superior quality drawing paper (240 g/m2) is ideal for PRISMALO®, LUMINANCE 6901®, NEOCOLOR®, FIBRALO, GOUACHES and other products from Caran d'Ache.
Technical description:
Dimensions : 23,7 x 16 x 29,7 cm
28 pages : 25 illustrations, 2 double-sided pages of artistic techniques, 1 blank page for the creation of its own design
Single-sided printed in order to hang the works up
240 g/m2 drawing paper, FSC paper
1 original poster with the 5 themes is included (28 x55.4 cm)
Individual protection
ISBN/EAN number: 9782970102700
L'ESPRIT DES ALPES is available as colouring book for adults, pad of 12 colouring postcards and gift box set "Art Therapy".
Developed and manufactured in Switzerland.
Add to Wishlist

Compare
Related Products
PRO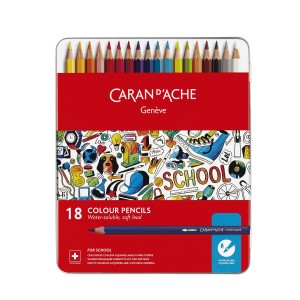 Caran d'Ache School Line Water-soluble Color Pencils, 18 Colours (metal box)
Designed with schoolchildren and students in mind, this brand new School Line is faithful to the values of Caran d'Ache. Along with the lasting quality which has earned the brand its international reputation, it has now added original packaging, emphasising creativity more than ever. Ultra-reliable and resistant to ensure they last well beyond the schools desks.
Not recommended for children under 3 years of age

Product Dimensions: 7.75" L x 5.25" W x 0.5" H
Made in Switzerland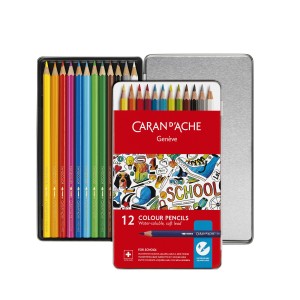 ด์