Caran d' ache Brush TANK
Caran d' ache Brush TANK
3 size
L (black)
M (blue)
Fibre-tipped (red)
Watercolour brush with water reservoir, fibre-tipped
Suitable for all watercolour on paper techniques. This brush with a reservoir is practical and easy to use. Suitable for all water-soluble formats including coloured pencils and graphite, watercolours and gouaches. The pump system makes it easy to clean the brush's synthetic fibres with water. The fibre-tipped brush is especially suitable for outlining, detailed work and controlled washes. Ideal for travelling, art classes and improvised sketching, the Caran d'Ache brush with water reservoir is a modern complement to traditional watercolour brushes.
Technical description :
Brush tip: fibre-tipped – ideal for outlining, detailed work and controlled washes
Pump system easily refills reservoir, rubber button to regulate water flow
Reservoir: holds 20 ml, can be removed thanks to its screw top
Warning. Not suitable for children under 3 years
Add to Wishlist

Compare
Related Products
PRO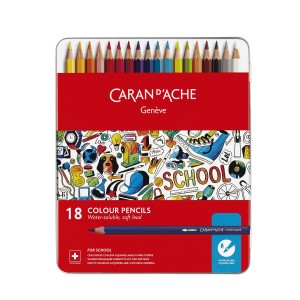 Caran d'Ache School Line Water-soluble Color Pencils, 18 Colours (metal box)
Designed with schoolchildren and students in mind, this brand new School Line is faithful to the values of Caran d'Ache. Along with the lasting quality which has earned the brand its international reputation, it has now added original packaging, emphasising creativity more than ever. Ultra-reliable and resistant to ensure they last well beyond the schools desks.
Not recommended for children under 3 years of age

Product Dimensions: 7.75" L x 5.25" W x 0.5" H
Made in Switzerland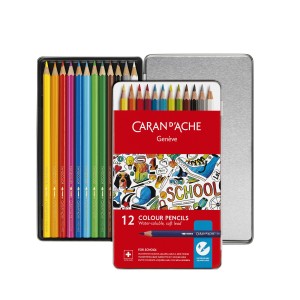 ด์