PRISMALO AQUARELLE 100 YEARS – LIMITED EDITION (cardboard box) 0999.325
To mark its 100th anniversary, the Maison Caran d'Ache reveals a new collection inspired from five iconic products: Technograph, Fixpencil, Prismalo, Ecridor and 849.
Today, just like yesterday, discovering Prismalo is to experience unique sensations. The first watercolour pencil in the world, companion to entire generations of artists and schoolchildren, it has taken all the magic of watercolour to another level since 1931. This selection contains 25 must-have colours, some of them are usually part of the big assortments.
Contents : 25 water-soluble coloured pencils
Applications : fine, hard, unbreakable lead for clean, accurate lines. Good for techniques such as hatching, wash drawing, scientific drawing or watercolour.
Technical description :
Type : Water-soluble coloured pencils, hexagonal shape for optimal grip
Lead : water-soluble, fine and resistant, 3 mm diameter, excellent light resistance
Pencil : hexagonal, encased, colour number indicated
Premium FSC certified cedar wood
Complies with CE EN71
Techniques : watercolour, wash drawing, hatching, mixed media with PABLO® permanent pastels, NEOCOLOR® wax oil pastels and gouache.
Developed and manufactured in Switzerland.
Add to Wishlist

Compare
Related Products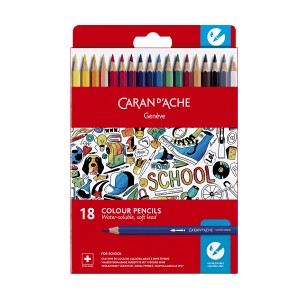 Caran d'Ache School Line Water-soluble Color Pencils, 18 Colours (cardboard box)
Designed with schoolchildren and students in mind, this brand new School Line is faithful to the values of Caran d'Ache. Along with the lasting quality which has earned the brand its international reputation, it has now added original packaging, emphasising creativity more than ever. Ultra-reliable and resistant to ensure they last well beyond the schools desks.
Not recommended for children under 3 years of age

Product Dimensions: 7.75" L x 5.25" W x 0.5" H
Made in Switzerland