GIFT BOX SET – ASSORTMENT OF 30 PRISMALO + 40 NEOCOLOR II 3002.470
The gift box set that combines two Caran d'Ache icons : PRISMALO® and NEOCOLOR® II for exploring water-soluble techniques. An ideal gift for all creative people.
Contents: 30 watersoluble PRISMALO® coloured pencils + 40 NEOCOLOR II watersoluble wax oil pastels.
Technical description :
Pencil : water-soluble lead, 3 mm diameter, hexagonal casing in FSC certified cedar wood.
Pastel : wax, water-soluble. Highly concentrated pigment, superior covering power, luminous colours and excellent light resistance.
Box set : superior quality birch wood with a protective varnish. Dark mahogany colour. Gold colour silkscreen (outside and inside). Golden fastenings. Dimensions: 29.1 x 22.4 x 4.2 cm.
Complies with CE EN71
Techniques : watercolour, wash drawing, hatching, mixed media with PABLO® permanent pencils and gouache.
Developed and manufactured in Switzerland.
Add to Wishlist

Compare
Related Products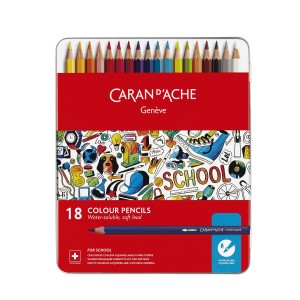 Caran d'Ache School Line Water-soluble Color Pencils, 18 Colours (metal box)
Designed with schoolchildren and students in mind, this brand new School Line is faithful to the values of Caran d'Ache. Along with the lasting quality which has earned the brand its international reputation, it has now added original packaging, emphasising creativity more than ever. Ultra-reliable and resistant to ensure they last well beyond the schools desks.
Not recommended for children under 3 years of age

Product Dimensions: 7.75" L x 5.25" W x 0.5" H
Made in Switzerland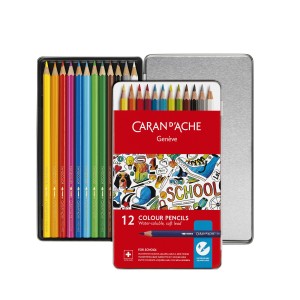 ด์