849 BALL.PEN PURPLISH RED SET COLL.2016 (ref.CC849.016)
Gift set:1 849 ballpoint pen + 1 ruled notebook in its case / CC0849.116
Purplish Red
Equipped with Giant Goliath cartridge medium blue, can write up to 600 A4 pages
Hexagonal body for an enhanced writing comfort
Steel point with a tungsten carbide ball ensuring a clean blot-free line.
Available refills: M (blue, black, red, green), F (blue, black, red), L (blue, black).
Ruled notebook with its case : 48-pages
Case to carry your ruled notebook with a special space to hold your 849 ballpoint pen
Magnetic closing system.
A reliable, original and practical everyday-partner following you at home or work, to be place easily in your bag
With their exclusive products and personalised accessories, "My story to" book-shaped gift sets are a genuine invitation to draw and write your own story.
Add to Wishlist

Compare
Related Products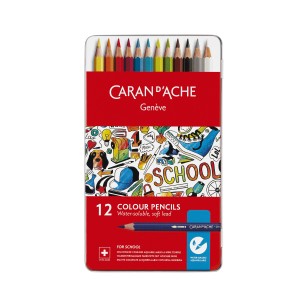 Caran d'Ache School Line Water-soluble Color Pencils, 12 Colours (metal box)
Designed with schoolchildren and students in mind, this brand new School Line is faithful to the values of Caran d'Ache. Along with the lasting quality which has earned the brand its international reputation, it has now added original packaging, emphasising creativity more than ever. Ultra-reliable and resistant to ensure they last well beyond the schools desks.
Not recommended for children under 3 years of age

Product Dimensions: 7.75" L x 5.25" W x 0.5" H
Made in Switzerland