Caran d' ache Brush TANK Set Size L,M,F # 115.303
Caran d' ache Brush TANK Set  Size L,M,F # 115.303
Watercolour brush with water reservoir, fibre-tipped
Suitable for all watercolour on paper techniques. This brush with a reservoir is practical and easy to use. Suitable for all water-soluble formats including coloured pencils and graphite, watercolours and gouaches. The pump system makes it easy to clean the brush's synthetic fibres with water. The fibre-tipped brush is especially suitable for outlining, detailed work and controlled washes. Ideal for travelling, art classes and improvised sketching, the Caran d'Ache brush with water reservoir is a modern complement to traditional watercolour brushes.
Technical description :
Brush tip: fibre-tipped – ideal for outlining, detailed work and controlled washes
Pump system easily refills reservoir, rubber button to regulate water flow
Reservoir: holds 20 ml, can be removed thanks to its screw top
Warning. Not suitable for children under 3 years
Add to Wishlist

Compare
Related Products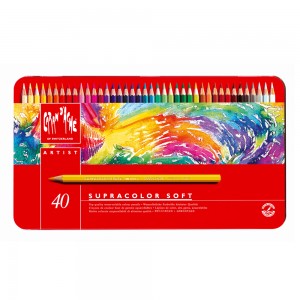 Pencils to satisfy both amateur and professional artists, illustrators, graphic designers and teachers thanks to the soft pigment range in both dry and water-soluble pencils.
Contents : 40 water-soluble coloured pencils
Applications : soft and unbreakable lead for clean, accurate lines. Good for techniques such as hatching, wash drawing, dry drawing or watercolour, superimposing different colours.
Technical description :
Type : Water-soluble coloured pencils, hexagonal shape for optimal grip
Lead : water-soluble, soft and resistant, 3.8 mm diameter, superior coverage, excellent light resistance
Pencil : hexagonal, encapsulated, colour no. and name indicated, light-resistance graded
Premium FSC certified cedar wood
Techniques : hatching, shading, watercolour, wash drawings, unlimited blending, superimposed colour, mixed techniques combined with PABLO® permanent pencils, NEOCOLOR® pastels and gouache. Ideal for large-scale drawings with large areas of colour.
Developed and manufactured in Switzerland.