ARCHES Watercolour album 23×31 cm 300 gsm hot pressed (12 Sheets) 400 014 935
ARCHES Watercolour paper. 400 014 935
Composition: 100% cotton – Made on a cylinder mould – Sized to the core with natural gelatin.
Grammages: 300
Sheet size : 23 x 31 cm (12 sheets)
Textures:  hot pressed
Colour: natural white
Format: album
Add to Wishlist

Compare
ARCHES Watercolour paper. 400 014 935
Composition: 100% cotton – Made on a cylinder mould – Sized to the core with natural gelatin.
Grammages: 300
Sheet size : 23 x 31 cm (12 sheets)
Textures:  hot pressed
Colour: natural white
Format: album
Conservation: with alkaline reserve, acid-free, no optical brightening agents (permanent in accordance with ISO 9706), fungicidal treatment to prevent the appearance of mould.
Uses: ideal for watercolour painting, as for all wet techniques such as ink, gouache and acrylic.
Related Products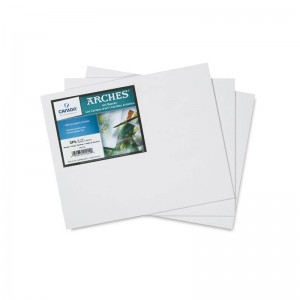 ARCHES Art boards. 200 005 365
The ultimate choice for watercolor, gouache or ink washes, Arches Watercolor Art Boards offer natural white, mould-made French watercolor paper.
Composition: 100% cotton – Made on a cylinder mould – Sized to the core with natural gelatin.
Sheet size : 1.7 mm, 30 x 40 cm (5 sheets)
Textures: rough
Colour: natural white
Format: sheets