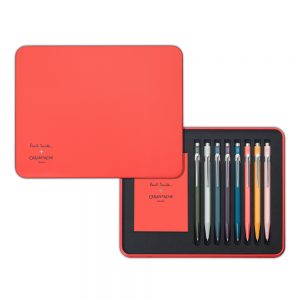 Box Paul Smith / 849.308
Metal case in matt red 
Ballpoint pen – ink cartridge
Refills: Goliath ink cartridge, large, medium or fine
Contains : 8 849 ballpoint pens, a leaflet
Lifetime international guarantee
Swiss Made
Caran d'Ache and Paul Smith are pushing their collaboration even further by bringing together the 8 colours of the Edition Two in an exclusive limited edition set. The metal case is embellished with red, a colour close to Paul Smith's heart, as well to Caran d'Ache's, and which highlights the eight new colours.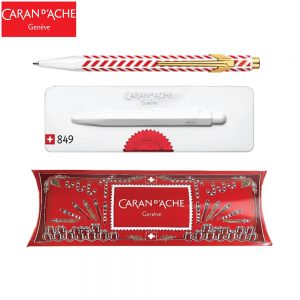 ปากกาลูกลื่น Caran d'Ache รุ่น 849 CHEVRON BALLPOINT PEN ด้ามจับทรง 6 เหลี่ยม ด้ามสีขาว คลิปโลหะสีทองสุดหรูหร เป็นเอกลักษณ์ พร้อมกล่องกระดาษสีแดงลายเทศกาล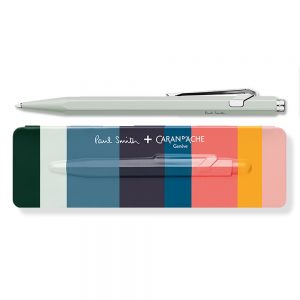 Ballpoint pen
Aluminium hexagonal body
Colour application using electrostatic powder coating
Signature of the designer
Flexible clip
Push-button
A ballpoint pen fitted with the medium blue Goliath ink cartridge
Swiss Made
The 849 gets inspired by Paul Smith 2016 fashion trends. This limited edition is available in 8 exclusive shades selected by the English designer. The 849 Paul Smith + Caran d'Ache "Pistachio Green" ballpoint pen comes in its matching ultra-thin packaging. Optimal comfort when held in the hand. This pen delivers up to 600 A4 pages, thanks to its acclaimed Goliath ink cartridge.
ปากการุ่น Trianon สี Navy blue
ตัวด้ามปากกาผลิตจากทองเหลืองเคลือบสีเงา แข็งแรง และทนทานต่อการใช้งาน
ปลอกปากกาผลิตจากโลหะทองเหลืองเคลือบสีเงา และสลักลวดลายดีไซน์สุดหรู
พร้อมชุบโครเมี่ยมอย่างดี คลิปหนีบโลหะชุบโครเมี่ยมเงาอย่างดี
ปากการุ่น Trianon สี White
ตัวด้ามปากกาผลิตจากทองเหลืองเคลือบสีเงา แข็งแรง และทนทานต่อการใช้งาน
ปลอกปากกาผลิตจากโลหะทองเหลืองเคลือบสีเงา และสลักลวดลายดีไซน์สุดหรู
พร้อมชุบโครเมี่ยมอย่างดี คลิปหนีบโลหะชุบโครเมี่ยมเงาอย่างดี
ปากกา Pierre Cardin รุ่น Trianon สี Black
ตัวด้ามปากกาผลิตจากทองเหลืองเคลือบสีเงา แข็งแรง และทนทานต่อการใช้งาน
ปลอกปากกาผลิตจากโลหะทองเหลืองเคลือบสีเงา และสลักลวดลายดีไซน์สุดหรู
พร้อมชุบโครเมี่ยมอย่างดี คลิปหนีบโลหะชุบโครเมี่ยมเงาอย่างดีงดี
ปากกา Pierre Cardin รุ่น Triomphe สี Black
ตัวด้ามปากกาผลิตจากโลหะทองเหลืองทั้งด้าม แข็งแรงและทนทานต่อการใช้งาน
เคลือบสีสดใส คลิปหนีบโลหะชุบโครเมี่ยมเงาอย่างดี
ปากกา Pierre Cardin รุ่น Triomphe สี Gray
ตัวด้ามปากกาผลิตจากโลหะทองเหลืองทั้งด้าม แข็งแรงและทนทานต่อการใช้งาน
เคลือบสีสดใส คลิปหนีบโลหะชุบโครเมี่ยมเงาอย่างดี
ปากกา Pierre Cardin รุ่น Triomphe สี Dark blue
ตัวด้ามปากกาผลิตจากโลหะทองเหลืองทั้งด้าม แข็งแรงและทนทานต่อการใช้งาน
เคลือบสีสดใส คลิปหนีบโลหะชุบโครเมี่ยมเงาอย่างดี
ปากกา Pierre Cardin รุ่น Triomphe สี Dark green
ตัวด้ามปากกาผลิตจากโลหะทองเหลืองทั้งด้าม แข็งแรงและทนทานต่อการใช้งาน
เคลือบสีสดใส คลิปหนีบโลหะชุบโครเมี่ยมเงาอย่างดี
ปากกา Pierre Cardin รุ่น Triomphe สี Light blue
ตัวด้ามปากกาผลิตจากโลหะทองเหลืองทั้งด้าม แข็งแรงและทนทานต่อการใช้งาน
เคลือบสีสดใส คลิปหนีบโลหะชุบโครเมี่ยมเงาอย่างดี
ปากกา Pierre Cardin รุ่น Triomphe สี Light green
ตัวด้ามปากกาผลิตจากโลหะทองเหลืองทั้งด้าม แข็งแรงและทนทานต่อการใช้งาน
เคลือบสีสดใส คลิปหนีบโลหะชุบโครเมี่ยมเงาอย่างดี