Textile Fashion The water-based  3x 50 ml.

3 colour inside pink, green, blue and purple 

Shimmer Textile 1×25 ml.

2 Stencils (Star / Bird)
Textile Fashion The water-based  3x 50 ml.
3 colour inside Orange, blue, gray and White Shimmer Textile 1×25 ml.
2 Stencils (Butterfly / circle )
The water-based textile spray paint 3×50 ml. for white fabric
3 colour insidePink, orange, green
2 Stencils (Fruit / Flamingo)
The water-based Creative Fashion spray set 3×50 ml. for white fabric
3 colour inside Yellow, red, blue
2 Stencils (Anchor  / butterfly)
Intensive, matt colours & elegantly shimmering effects 5×25 ml.
Inside have 4 Shimmer color , 1 Matt color
soft to the touch
for textiles with up to 20% synthetic fibres
washable up to 40°C after fixing
ideal for embellishments & lettering
Can be used on both fabric white fabric.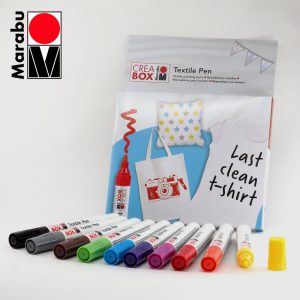 Pen for painting  fabric.
Inside have 10 color size 3 mm.
The water-based textile pen paint in the convenient pump-action spray bottle is suitable for light-coloured textiles with up to 20 % man-made fibres. After fixing (iron: 30 x 30 cm, 3 min. at cotton setting/oven: pre-heated, 150 °C/8 min.) will be washable up to 40°C (wash and iron from reverse).
Whether free-hand pianting with colour transitions, stencilling, masking or tying off – the odour-free and light-fast paints allow endless techniques.
Marabu  textile pen in combination with Fashion Liner and Silhouette Stencils make fashion dreams come true.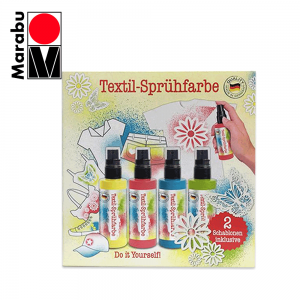 The water-based Textile Fashion spray set 4×50 ml. for white fabric
4 colour inside Yellow, red, blue
2 Stencils (Flower  / butterfly)
Easy Marble -Easter Time 3x15ml. (8 Plastic eggs)
Marabu Easy Marble – Solvent-based
Doesn't require the use of other chemicals
Cleans up with isopropyl alcohol or solvents, depending on dryness
Easy Marble paints are lightfast and quick-drying
additionaly things you need:
plastic eggs
water container
wooden skewers
gloves
old newspaper, paper
Tips
Always work quickly as easy marble will form a paint film within a very short time, making it impossible to create a marble effect pattern.

Magnetic paint – Magnetic wall from the can, color: gray, magnets adhere directly to the painted surface, 225 ml for approx. 1 m², with manual.
Magnetic paint – How it is done:
1. The substrate must be as smooth as possible, dry, grease and dust free. Stir the paint well before use, to redistribute the magnetic particles in the paint.
2. Apply the desired object with magnetic paint 2 – 3 times (drying time between the individual layers approx. 2 hours).
3. Apply the product with acrylic paint.
4. Glue the magnets to the spreading parts and attach them to the object.