ขนสังเคราะห์คุณภาพสูง ขนพู่กันละเอียด และมีความนุ่ม ทำให้อุ้มน้ำและสีได้ดี
ใช้สำหรับงานระบายสีลากเส้น งานทั่วไป และงานเก็บรายละเอียด
สามารถกำหนดความหนาบางของเส้นที่วาดได้โดยน้ำหนักการกดของพู่กัน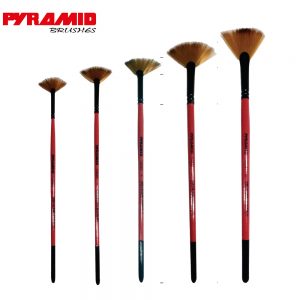 ขนสังเคราะห์คุณภาพสูง ขนพู่กันละเอียด และมีความนุ่ม ทำให้อุ้มน้ำและสีได้ดี
เหมาะสำหรับงานที่ต้องการใช้เทคนิคพิเศษ เช่น ทำต้นหญ้า ทำพุ่มไม้ เส้นขนต่างๆ
ขนสังเคราะห์คุณภาพสูง ขนพู่กันละเอียด และมีความนุ่ม ทำให้อุ้มน้ำและสีได้ดี เหมาะสำหรับวาดรูปสี่เหลี่ยมที่ให้เส้นขอบมีลอนสวยงาม และสามารถควบคุมปลายพู่กันในพื้นที่แคบๆ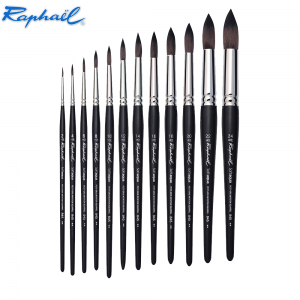 Shape : Round
Fibers : INNOVATION wavy synthetic fibers
Use : Line, detail, contour, adjust and finishing touch.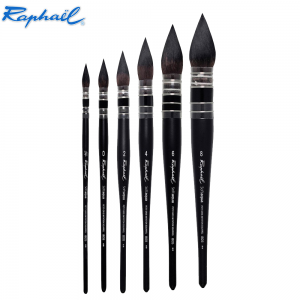 SOFTAQUA : Fiber holding twice as much color than a classic synthetic wash-drawing brush.
Softaqua fibre is a technical innovation created thanks to the collaboration between artists and the Raphael's research and development department. The result of this research is an exceptional synthetic fibre offering unequalled colour carrying capacity. The wavy fibercatches the water molecules and the colour, contrary to the classic synthetic fibres which are straight and lined up. Thus, thanks to this innovative wavy form, a Softaqua brush holds twice as much color.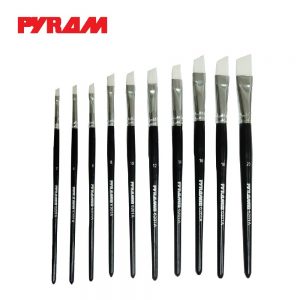 พู่กัน PYRAMID ขนสังเคราะห์สีขาว ปลายตัดเฉียง ด้ามสั้นสีดำ 6201A
ขนนุ่ม สปริงตัวดี
เหมาะสำหรับ งานสีน้ำ สีอคริลิค ได้หลากหลายเทคนิค และงาน DIY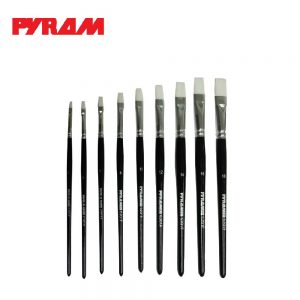 พู่กัน PYRAMID ขนสังเคราะห์สีขาว ปลายแบน ด้ามสั้นสีดำ 6201F
ขนนุ่ม สปริงตัวดี
เหมาะสำหรับ งานสีน้ำ สีอคริลิค ได้หลากหลายเทคนิค และงาน DIY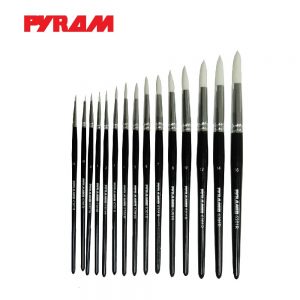 พู่กัน PYRAMID  ขนสังเคราะห์สีขาว ปลายแหลม  ด้ามสั้นสีดำ 6201R
ขนนุ่ม สปริงตัวดี
เหมาะสำหรับ งานสีน้ำ สีอคริลิค ได้หลากหลายเทคนิค  และงาน DIY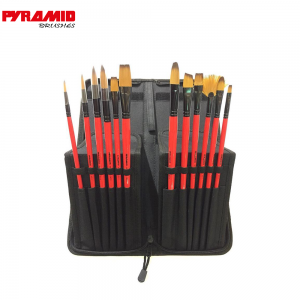 ชุดพู่กันขนสังเคราะห์ 12 ด้าม พร้อมกระเป๋าใส่พู่กัน
เหมาะสำหรับพกพาสะดวก
ขนสังเคราะห์คุณภาพดี สีทองปลายดำ ด้ามยาวสีแดง พกพาสะดวก เหมาะสำหรับงานสีน้ำ สีอคริลิคและสีน้ำมัน
ภายในชุดประกอบด้วย
พู่กันกลม 6 ด้าม
พู่กันแบน 5 ด้าม
พู่กันพัด 1 ด้าม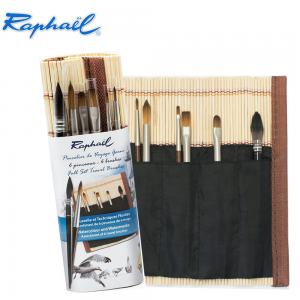 Raphael Brushes included:
Series 85046 Round Brush #2
Series 85046 Round Brush #0
Series 89406 Filbert Brush #1
Series 85346 Flat Brush #2
Series 85346 Flat Brush #0
Series 8056 Soft Aqua Wash Brush #4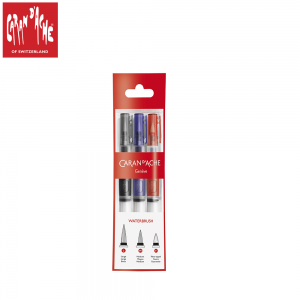 Caran d' ache Brush TANK Set  Size L,M,F # 115.303
Watercolour brush with water reservoir, fibre-tipped
Suitable for all watercolour on paper techniques. This brush with a reservoir is practical and easy to use. Suitable for all water-soluble formats including coloured pencils and graphite, watercolours and gouaches. The pump system makes it easy to clean the brush's synthetic fibres with water. The fibre-tipped brush is especially suitable for outlining, detailed work and controlled washes. Ideal for travelling, art classes and improvised sketching, the Caran d'Ache brush with water reservoir is a modern complement to traditional watercolour brushes.
Technical description :
Brush tip: fibre-tipped – ideal for outlining, detailed work and controlled washes
Pump system easily refills reservoir, rubber button to regulate water flow
Reservoir: holds 20 ml, can be removed thanks to its screw top
Warning. Not suitable for children under 3 years