8″ CarboTitanium Straight Scissors

Westcott's CarboTitanium Scissors won the 2016 GOOD DESIGN Award

Carbonitride Titanium Bonded blades are 8x harder than untreated stainless steel and will stay sharper longer.

High-Leverage, Ergonomic Comfort Bows.

Reinforced high strength handle

Unique ergonomic over mold handle

Suitable for heavy duty cutting of heavy fabric, boxes and plastic packages.

Manufacturer's lifetime warranty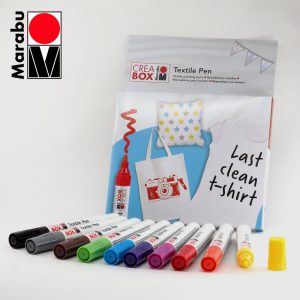 Pen for painting  fabric.
Inside have 10 color size 3 mm.
The water-based textile pen paint in the convenient pump-action spray bottle is suitable for light-coloured textiles with up to 20 % man-made fibres. After fixing (iron: 30 x 30 cm, 3 min. at cotton setting/oven: pre-heated, 150 °C/8 min.) will be washable up to 40°C (wash and iron from reverse).
Whether free-hand pianting with colour transitions, stencilling, masking or tying off – the odour-free and light-fast paints allow endless techniques.
Marabu  textile pen in combination with Fashion Liner and Silhouette Stencils make fashion dreams come true.