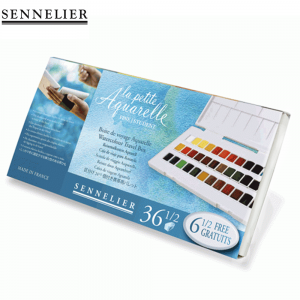 This exceptional and very high quality watercolor will help you make your works even more powerful due to the liveliness and purity of the hues. The colours mix together perfectly, offering superbly subtle shades. These smooth, intense colours will be a genuine pleasure to paint with. The addition of honey will allow the tubes and pans of Sennelier watercolors to stand up to the passing of time and each time you will paint with them you will be able to accurately translate the diversity of light shape and hues.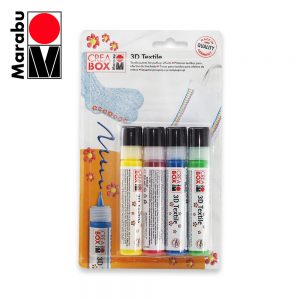 The water-based / Matt
Size 4 × 25 ml  Yellow, red, blue, green
For textiles (cotton and mixed fabrics with up to 20% synthetic fibres), any finishes and fabric conditioners have to be washed out. Transfer the design to the T-shirt. Place the paper inside the T-shirt to prevent the paint from staining the back. Fill in the design with a textile paint of your choice, e.g. Marabu Textil plus. Lightly press the Liner tip into the fabric and use the 3D textile to apply embellishments to the fabric. After drying (at least 8 hours), iron each painted section from the reverse at a cotton setting on a soft surface without pressure for 2-3 minutes until the paint puffs up matt and raised. The paint from the 3D textile also successfully puffs up if the fabric is fixed in a pre-heated oven at 150°C (2-15 minutes depending on the thickness of the paint). Afterwards washable up to 40°C. Wash and iron inside out.